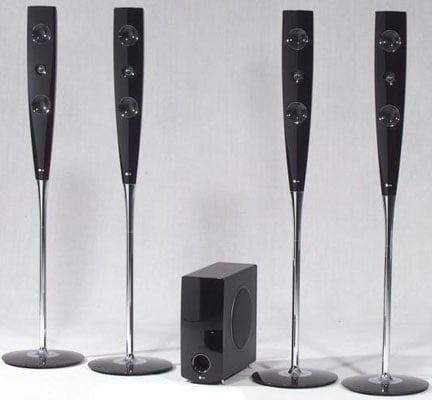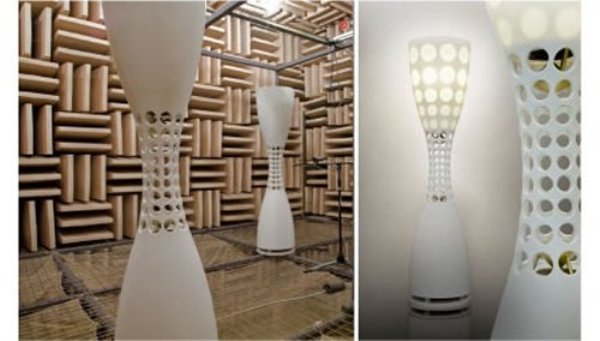 Porcelain Speakers


Just as the title suggests these speakers are made of porcelain ceramic and handmade by the designer,
Joey Roth
.
I like the concept of using ceramics for speaker design but I'm curious
about how they sound. Also, the speakers themselves are nice but
there's a disconnect in choices of form and material for the other
components that make up this system. The boxy brushed aluminum
interface and 2 part plywood stands are unresolved and are more of a
distraction than a compliment to the speakers. Why can't the speakers
be made to stand on their own and why do they need their own interface?
Just focus on the speakers Joey!
Russian nesting dolls
.
Unfortunately these funky looking speakers are just a
concept
, and I am not sure about the colours they certainly looks bit bright, I bet they would look great in black.
These funky speakers are the work of Russian designer Alex
Mamontoff, and he actually made a working prototype of the speakers,
unfortunately he won't be putting them into production.
Ilshat Garipov has released his latest Wireless Speakers Concept called
the Sound Egg. The Sound Eggs are basically wireless speakers for
multimedia devices with wireless interface.
The Eggs design is based on image of the tilting doll and simple
white eggs. The white case – a shell, orange speaker – an egg yolk.
Speakers have no accurate support, however in their bottom part
installed cargo which constantly holds them in the vertical or inclined
position.
[
DesignBoom
]
Happy Alien Mini Speaker
Frolicat Bolt: Laser Entertainment For Your Cat
If
you have a cat, you've probably played with it with a laser pointer.
Cats love laser pointers! Well, now the Frolicat Bolt lets your cat be
entertained by lasers without you needing to do any work. Simply put it
down and it'll flash lasers all over the place, making your cat go
crazy.
You know what else cats love to play with? String. Or
crumpled up paper. Or basically anything else. But hey, this thing has
lasers! And costs $20! Doesn't your cat deserve something that'll cost
you money?
Custom Audio Horn Speakers made by Specimen Products
Specimen Products, a Chicago- based custom guitar and amp shop, has
revived the flavor of vintage record players to suit the modern day
music accessories. Available for $1500, the Little Horn Speakers
produce life-size sounds with only 10 watts of power. The structural
rigidity of the horns comes from high-density fiberglass, while the
base is made of Baltic birch plywood. They are available in various
color combinations and can be custom made for special orders.
ghe gom the nay thi ................
Design student
Joonas Saaranen
has created a backpack that is actually a speaker system. The hardshell
pack contains both speakers and an amplifier for on the road use. (And
I'm assuming a metric ton of batteries as well?). Pretty cool concept
though I'm not sure I'd walk my streets rocking one. But bonus points
for designing it to look like it came right off the back of a
Stormtrooper. Just wonder, is there storage built in for an
iPod
? Or a six pack?
JBL SPEAKERS

Creative mini Egg Design,and with a better bass system.Lovely design,perfect forpromotion.
Features:
1).Portable Never fall down speakers, with funny egg shape and extension tube
2).Compliable with mobilephone,Mp3,Mp4,Ipod,PDA Etc
3).buill-in rechargeable Li-ion Battery,can be recharged by USB Power
Accessories:
USB/audio cable
Available Colors:BLUE/RED/SILVER
Inner Package:Blister box
If
you're looking for some new speakers for your desktop and want them to
also be easy to carry with you along with your laptop, you could
definitely go for the MINHUA Speakers M9A01; and if stylish audio gadgets are your game, then these mini-speakers seem even more alluring. The MINHUA Speakers M9A01
have been designed with space economy in mind and their diminutive
footprint makes them easy to integrate in almost any setting; whether
or not your desktop is a crowded one – you'll find a place for them for
sure.

Another
cool thing about these small speakers is that they sport a variable
shape, living up to their name. The bellows-like articulation they've
been endowed with lets them keep a low profile when packed and be easy
to stow away inside your backpack or even laptop bag.
When open,
the articulation also increases the resonance chamber and extends the
"cabinet," allowing the small drivers to produce a punchier, more solid
sonic response. At the same time, the increased chamber favors the bass
reproduction, delivering you better listening conditions and allowing
you to enjoy your fav music in more pleasurable conditions.

With the concept of mobility as a basic rule, the MINHUA Speakers M9A01
also come with retractable, self-contained cables, for audio and power.
All you have to do is pull out the audio cable and hook it to any music
source such as an MP3 player, iPod, laptop or gaming console, and then
you're all set. The built-in lithium rechargeable battery will provide
you with many hours of playback; and if you're using the the minhua
speakers M9A01 with a computer, just pull out the USB cable and connect them to a USB port, for both playback power and recharging.
The MINHUA Speakers M9A01
will sound louder than most similar-size speakers. It's well worth a
try; just decide whether you'll go for the crimson red or matte black
ones.
i-Dear WoodSpeaker Mini iPod & Cell Phone Speaker
As far as portable speakers go, few can boast quite the level of
portability or quite the degree of desirability as this mini, wooden
strap speaker unit from i-Dear known somewhat inventively as
Woodspeaker. Measuring in at a mere 24×12x56mm, the i-Dear
WoodSpeaker may not offe...
jake1234
submitted
Davone Rithm Audiophile Designer Speaker Sports Sculptural Beauty
We've featured but a few speaker units here on EP but, whilst
our collection to date is somewhat limited what we lack in quantity is
certainly made up for in terms of sheer desirability – take
Scandaya's Pod Speakers , Symbio Design's Alpha
Speakers and the...
Wooden Ladybug USB Speaker
This box-like round speaker not only functions as a speaker for your
computer or media player, but doubles as an alarm clock as well. The
opening of the wings unveils the menu used for controlling the volume
and power. The great thing about these are that you get to choose how
it's powered...
Areaware Magno wooden radio / speaker - even the cables have wooden plugs!
They went to a whole new level of detail with this wooden radio. The
end of the telescopic antenna is wooden, the knobs are wooden, the
speaker grill is wooden, the external antenna has both a wooden
connector and a wooden circle at the other end and the auxiliary input
cable has wooden jacks on bot
All-in-one wooden speaker by Erick Sakal
Now this one's gotta be the funkiest! Brainchild of Erick
Sakal Lemaire, it's a sea creature-like speaker that promises
to heighten the aesthetics of your living room. What's
different? Smart all-in-one speaker system equipped with sub-woofer,
the tweeter on th...
More...
bamboo speakers perfect for pandas with ipods
It not often these days that you see inexpensive portable speakers made
out of anything but plastic. But these well-priced compact speakers are
actually made of durable bamboo, a highly unusual material for speaker
enclosures. According to the folks over at SourcingMap , the bamboo
provi...
More...
jake.liu
submitted (
technabob.com
)
Ginko:a one-way-speaker without a crossover network, enclosed in a sealed box
The history of loudspeaker development is characterized by makeshift
solutions and a string of inevitable compromises resulting from them.
Temporary fashions grab ahold of trendy ideas to develop them for a
short period of time. The line of evolution is quickly abandoned as
soon as the next trend co...
More...
High-end Evanui Signature loudspeakers for true audiophiles
There is no shortage of weird luxury gears for an audio enthusiast in
the market. Take for example the Evanui Signature loudspeaker system
from the house of Japan based manufacturer ViV Laboratory. The creative
folks have built these high-end speakers having the most intricate
design with a full ran...
The Waaz Speaker Shelf
The Waaz speaker shelf is a subtle sound system solution. Designed by
Jean Louis Frechin of France, the speaker shelf is described as
"a shelf connected to a computer that doubles as a device for
audio diffusion and archiving digital music files (MP3)."
Don't ask us
Tangle DNA Sound Portable iPod Speakers
By
Mike Hanlon
Tangle DNA Sound Portable iPod Speakers
December Best known for its twistable playthings,
Tangle
has announced a new design for portable speakers based on its "Fun
Twisty Thing" technology. The Tangle DNA Sound iPod Speakers comprise
two high powered speakers that seem to float in mid-air as they are
gracefully suspended above the speaker base by four twistable Tangles.
These Tangles allow you to twist and turn you DNA Sound Speakers in any
possible direction.

Permissions in this forum:
Bạn
không có quyền
trả lời bài viết